Why We Need To Think GI Cancer
You don't need to read as many daily newspapers as we PRs do to know that our creative industries have been in mourning this past month: the broadcasting industry for BBC veteran Sir Terry Wogan; the world of theatre and film for beloved actor Alan Rickman; and thousands of musicians for icon David Bowie.
As well as the phenomenal talent they shared and huge bodies of work they left behind, a common theme unites these tragic deaths: they died of gastrointestinal cancer. For David Bowie, it was liver; for Alan Rickman it was pancreatic; and reports of Sir Terry Wogan's illness being mistaken for back pain, although unconfirmed, would also indicate either pancreatic or stomach cancer. And one of the features these two forms of cancer share is that they are most often diagnosed in A&E, the initial pain and discomfort all too often dismissed as a bad back, other symptoms ignored perhaps out of embarrassment.
The ten-year prognosis on pancreatic cancer is stark, with just 1% of people diagnosed with pancreatic cancer in the UK surviving the disease for ten years or more[1]. Primary liver cancer has a similarly poor outlook in adults: just 30% of adults diagnosed with liver cancer survive more than a year, dropping to just 10% after five years.
And these bleak prospects hold true for other cancers in the gastrointestinal family: oesophageal cancer has a ten-year survival rate of 12%, stomach cancer of 15%. Compare this to 78% for breast cancer, and it quickly becomes apparent how much of a difference it can make to catch cancer symptoms early.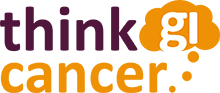 So what can be done to help encourage early diagnosis and improve survival rates? For one group of general practitioners, the key is in primary care. The Primary Care Society for Gastroenterology has launched a campaign, Think GI Cancer, to encourage and support GPs to have frank and honest communications with patients.
With a quarter of UK cancers still diagnosed only in casualty departments, it is all too obvious that many patients are not consulting their GP early enough. This is why the PCSG want to help patients realise that they are not 'wasting the doctor's time' when they ask for advice about a change in bowel habit, rectal bleeding or weight loss. The society is also complementing this approach with support for GPs, from educational materials to informative talks, to encourage them to 'safety net' and take a more structured approach to diagnosing suspected cancer.
And since the success of treatment is largely dependant on how far the cancer has developed when it is diagnosed, these small changes can make a huge difference. Getting both patients and doctors talking frankly about bodily functions, and what to be concerned by, could be the key to finding cancer of any kind at earlier stages.
It is always a tragedy to lose another life to cancer – no more and no less for any kind of talented artist. But, for me, these high-profile deaths have highlighted not just how far we have to go yet to beat cancer but how easy it could be to improve our own chances. We need to learn to eschew that old British trope, the stiff-upper lip, and get chatting to our GPs – it could save your life!
For further information on gastrointestinal cancer, or for advice and support, visit:
Cancer Research – http://www.cancerresearchuk.org/
Pancreatic Cancer Action UK – https://pancreaticcanceraction.org/
Primary Care Society for Gastroenterology – http://www.pcsg.org.uk